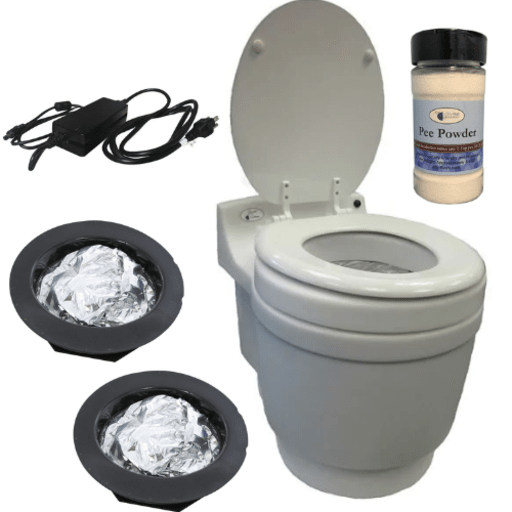 Laveo Dry Flush Toilet - AC Powered
Description

Specifications:

Reviews

Shipping & Returns

Price Match
The Laveo DF1045 Portable Toilet is the best portable toilet you can buy. It's small, lightweight and easy to use, so you can take it anywhere. It's the perfect toilet for your RV, camping trip, sprinter, boat, cabin, or tiny house.

This self-contained toilet uses self-sealing bags to enclose waste from each flush. This prevents mess and smell and makes this unit perfect for almost any situation where a portable toilet is desired.
The Dry Flush is truly portable. The Laveo Dry Flush can be placed on any level surface indoors or out. Nothing needs to stay plugged in, vented—and mounting is optional!
HOW DOES THE DRY FLUSH TOILET WORK?
Just like a regular toilet, you push the flush button after you go to the bathroom.
When the flush button is pushed, the Dry Flush toilet will twist and seal your waste down into an airtight isolated bag.
Just use and empty the cartridges when full.
DRY FLUSH TOILET FEATURES
Comes to your door ready to use

Portable + Waterless

No external power source needed, No chemicals needed

Quick change disposable cartridges, easy mess free cleanup

Full standard size toilet seat

Warranty: 1 Year Limited

Manufactured in USA
 What comes with the DF1045 Laveo Dry Flush?
AC 110V Power Cord

Two Flush Refill Cartridges

User Manual

One Bottle of Pee Powder (serves 3 refills)

One-year limited warranty comes with each Laveo toilet
DRY FLUSH TOILET MAINTENANCE:
For full instructions for changing out Dry Flush Cartridge please review the Dry Flush User Manual PDF .
When you have used up your cartridge and want to throw it away you will just need to lift the toilet seat and trim piece. Under that you will find a black waste bag containing the wrapped waste.  

You will never see, smell the waste because it will be contained in the used cartridge and also the black bag. 
DISPOSING THE DRY FLUSH TOILET CARTRIDGE: 
You can tell when your cartridge is almost empty by looking at the silver cartridge. If you are down to your last two flushes, a red line will appear on the toilet material on the silver cartridge.
How to tell when you Cartridge is almost empty: when you are down to you last two flush a red line will appear on the toilet material on the silver cartridge. 

How can I dispose of the Dry Flush Cartridge? You can dump your Dry Flush Cartridge in the trash. Landfills allow human waste such as baby and adult diapers, so it also applies to Dry Flush Cartridge. Waste needs to be contained in plastic bags before disposal.
LAVEO DRY FLUSH TOILET USER MANUAL
Please CLICK HERE for the user manual for additional information. 
Dimensions: 20 x 16 x 18 inches

Material: Low-Density Polyethylene (LDPE)

Item Weight: 27 Pounds

Installation Method: None Necessary! Optional Mounting
Still have questions? Don't hesitate to reach out or give us a call at 833-717-1234.
Toilet
Thought it came with a battery. So now I ordered one. Otherwise it's good
Works great for home office!
I have been using this toilet for about a year now and I love it. I have a small office in my back yard and I wanted a 1/2 bath but didn't want pluming or a septic system. This toilet fit the bill, no leaks, no odor, single flush and long lasting battery. The bag lasts about a month of use which is just fine with me because it's used only twice a week (the tank has enough capacity to last much longer). The battery still going strong after 8 months. Looks great too! Easy to clean and change out bags.
Works great - One Note
We've been using this waste disposal unit for about a year now, and we're really happy with it!
We live in a travel trailer until our cabin is finished, and this unit works great. We learned to only use it for solid waste and one cartridge lasts for a month. If we use it for liquid waste also it only lasts one week and the bags tear more easily. Since the cartridges are expensive we use a portopottie for liquid waste. Double bag the used cartridge before you take it to the dump and it will save you headaches.
We're very happy!
We've been using our new Laveo Toilet for about a month now and we're very happy with it.
We did a lot of research on waterless toilets before we purchased this unit, and we had to wait about three weeks to get it because they were on backorder. But it was worth the wait! We're impressed with the quality and design of this toilet, and we have no doubt that it will work as described. It's easy to install with the floor mount kit too—it's very close in height and feel to a regular toilet, which wasn't always true with our previous unit.
Tiny Home Equipment was excellent to deal with during our purchase process. They kept us updated through every step of the process, from placing our order until delivery.
Best investment ever.
I car camp in a Conversion Van, and I often go to remote locations. It's so lightweight that I can carry it on one hip.
I've been using this toilet for years now, and I have no complaints. It works perfectly, and there is absolutely no smell or hint of waste coming from it.
I can use it in the woods for days without recharging. And when I'm not camping, I keep it in a basement office where we don't have plumbing.
Shipping is fast and FREE across the USA. For more details about shipping see the full shipping page here.
We offer 30 Day Easy Returns. If you decide you don't need a product we'll take it back so long as it is in original and re-saleable condition. See the full details here.
Found a better price online? We'll match it or beat it if we can.

All you need to do is let us know via phone or email (info@tinyhomeequipment.com) and we'll let you know what we can do.

You will need to provide evidence of the better price online and it must include any shipping or taxes charged by that site. I.e. It needs to be the total price.

This only applies to new products, it does not apply to used condition products.